Fipe's Hawaiian Manapua
From
elgourmand
7 years ago
How to make it
---
The dough:
1. Proof the yeast. Stir yeast and 1 tablespoon of sugar into 1 cup of the warm water. Let stand for 15 minutes.
2. Mix the flour & remaining sugar together and make a well in the centre.
3. Pour the proofed yeast and the remaining water into the flour and mix well.
4. Knead dough for 5-10 minutes. The dough will stiffen, and should spring back slowly when indented with a finger.
5. Coat the bottom of a large bowl with a bit of oil to give a thin film. I use sesame oil for this but whatever. Place the dough in the bowl. Roll around so it is coated on all sides.
6. Cover & let rise in a warm place to double its volume, about an hour or so.
7. Punch down the dough, kneed a bit and let rise to double the volume again. I let my dough double rise but it isn't absolutely necessary, if you're in a hurry.
8. Form the dough into a large, thick round on your board.
9. Sprinkle the baking powder on the round and kneed at least 50 times. If the dough has gotten a bit soft and sticky add a bit of flour as you kneed.
10. Divide the dough into two long rolls and cut each one into six even pieces & roll each piece into a ball & set aside.
The filling:
1. Heat up a skillet and fry the bacon or pork belly until done but not crisp.
2. While you have that frying, cut up the BBQ Pork into small chunks. See Photo
3. When the bacon or pork belly is just about done add the BBQ Pork, 2 Tbs water and Worcester sauce and mix well until heated through. This lot needs to be well combined and very moist. If it seems a bit dry, add a Tbs or 2 of water, or beer.
The Buns:
1. There are at least 8,476 ways to fill a pork bun and seal it. I haven't found the perfect way yet but this way works; usually. If you're a master bun filler or have a better idea go for it and send me a tip. Fipe always makes this look easy.
2. Roll each ball of dough out into about a 8" (20cm) circle. The centre of the dough should be a bit thicker than the edges. Make sure the dough isn't stuck to the board.
3. Put 2 – 3 Tbs of filling into the centre of the circle. See Photo
4. Gather the edges of the dough and bring them together over the top of the filling.
5. Pinch the edges together firmly & twist until you've pinched off a small piece of dough. It's important that you seal the bun completely.
6. Place the bun, pinched off side down on a 4" x 4" (10 x 10cm) piece of parchment, tinfoil or wax paper and set them aside, covered with a cloth, to rise for about 1 hour.
7. Get your steamer ready. Almost any steaming arrangement will do. The first rack should be at least 4" (10cm) above the boiling water & it should have a reasonably tight lid See Photo. I have a Japanese, three tier bamboo steamer that I picked up in Hawaii a hundred years ago. They are a dream to use and if you ain't old as the hills and plan on cooking for a while I recommend getting one.
8. When the hour is up and the steamer is steaming put the buns in, making sure they don't touch each other, cover tightly and steam for 20 – 25 minutes.
9. Remove the steamer from the heat but do not open it right away. Let it cool slowly so the dough won't collapse.
10. When things have cooled down a bit take the parchment, foil or paper off the bun and serve. See Photo
Now you know why Fipe has great buns. This looks a little more complicated than it actually is. These are gourmet type Manapua and there are some shortcuts you could take; like buying the dough and BBQ Pork from your supermarket. We can't do that here. We have eaten Manapua every way we could think of and the absolute best was dipping them in some clarified pork au juice left over from another bit of cooking. Beef au juice or bullion might work; I have to try that. Here in Samoa they have a similar, but vastly inferior, thing they call Kake Puaa (pork cake). The dough isn't too bad but the filling is made from the fatty, gristly kind of beef trimmings I feed my dogs, not recommended, if you visit Samoa.
People Who Like This Dish 11

---
The Cook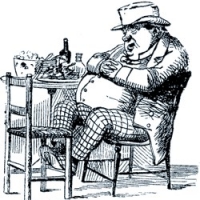 elgourmand
Apia, WS