Kill Da Wabbit
From
chefmal
6 years ago
How to make it
---
Mix the rub ingredients together in a separate bowl and spread it evenly onto the raw rabbit parts.
If you have the prep time, marinate the rabbit parts in the wine, onions and rub mixture for about 2 hours (up to overnight) in the fridge beforehand.
When ready to cook, preheat the oven to 350 F. Transfer the rabbit and onions plus the diced red pepper into a deep, buttered saute' pan over medium-high heat. (Do not add the broth or wine yet) Cook until onions caramelize and the rabbit meat is browned, about 10-12 minutes, stirring and turning often. Add the broth and wine, blend well, using the liquid to scrape up the brown goodness left on the bottom of the pot by the onions. Yummeh! Cook for another 2-3 minutes until hot.
Transfer everything into a deep baking dish and cover with tin foil. Bake at 350 F for 40 minutes, then remove the tin foil and bake for an additional 10-15 minutes.
*To make the gravy
When the rabbit is done, use a pair of tongs to remove them from the liquid and place them onto a separate plate. Pour everything else back into the saute' pan and simmer over low flame. In a small bowl, mix the flour and chicken stock with a fork until all the lumps have been worked out. Add the thickening agent into the simmering broth slowly, stirring constantly. Let it boil a bit, then cut off the heat, still stirring. The broth and wine mixture will thicken into a gravy with all the onions and peppers still inside.
Serve the rabbit over the starch of your choice with the onion-pepper gravy on top. It's different, delish, and perfect for the holidays.
The Cook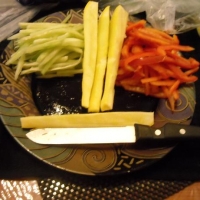 chefmal
Bronx, NY
The Groups
Not added to any groups yet!