How to make it
---
Begin by heating about least 6 inches of salted water in a pot. If the water is too shallow, the noodles will stick to the bottom.
Mix the flour, salt, eggs and water together, and let resulting dough sit at least 10 minutes.
Load the dough into your press (see below for details) and squeeze 1/2''-2" strings into boiling saltwater in several batches. Scoop noodles into a waiting bowl as soon as they rise to the surface.
Rinse cooked spätzle in warm water if they are to be used immediately. Otherwise rinse in cold water and coat lightly with oil or butter so they won't stick together.
Be sure to use up all the dough; it spoils quickly in the fridge. The cooked noodles are fine for several days.
About forming the noodles:
It's easier than it sounds.
There are two basic ways to do this: squeeze the dough through small holes, or scrape it off a cutting board. The first method is much easier and can be done with an instrument for that specific purpose, ie a spätzle press (like a giant garlic press), or anything else that pushes the dough through small holes. I use a sandwich size baggie with holes poked around one corner.
You can also use a wet cutting board and flat knife. Place some dough on the board, towards one end. Scrape some off for each noodle, and drop into the boiling water. Rinse board and knife often to prevent dough from sticking. This is more time consuming and harder to figure out, but a more traditional (or at least older) method.
People Who Like This Dish 9

---
The Cook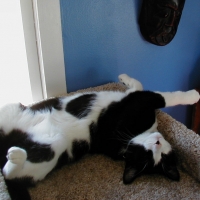 sparroe
CA