How to make it
---
Gradually bring milk to a boil in the pot (87-91C or 190-195F)
Set milk aside to cool to around 46C / 115F
Pour milk through (sterilized) mesh strainer into a (sterilized) mixing bowl or jug that can be easily poured from.
Add yogurt starter culture (powder or "live yogurt") and mix well.
Pour into vacuum-insulated beverage containers, seal and leave to ferment for between 3 and 12+ hours, depending on desired level of tartness and/or dietary concerns* (Leaving the yogurt for 10-12 hours yields a very tart product (i.e. I don't like it at all, and it requires way too much sugar or other sweetener to make it palatable) because the majority of the milk sugar (lactose) has been converted by the bacteria into lactic acid, which is tart / bitter. Because of this, such yogurt can usually be eaten by lactose intolerant people without the usual gastrointestinal ill effects. Theoretically, this also includes a larger proportion of yogurt bacteria, so if you are only eating it for the probiotic benefits, then a few spoonsful of this might do the trick. That's not medical advice or anything - ask your doctor, dietician, or someone qualified as to whether that statement even makes sense. :-))
When fermentation is complete, divide up into jars, bottles, or other containers. If these may be used as culture later, they must be sterilized and airtight.
Add honey / sugar / fruit / vanilla / spice to the individual jars either immediately or just before eating. Stir to blend and enjoy.
I'm probably making this recipe a bit longer than necessary, because I want to cover a couple of possible scenarios. The first is that you're simply using yogurt starter culture to "inoculate" your batch of yogurt. The second is that you're using either homemade or store-bought natural unpasteurized "live" yogurt. Homemade yogurt is very easy to make. The critical step is understanding that you are actually growing a living thing - the yogurt bacteria themselves, which require specific conditions in order to live and do their work. If your milk, starter yogurt or any of your containers are contaminated with other bacteria, then it is possible that your yogurt will not be successful. In order to eliminate contamination, the recipe calls for boiling of the milk. However, all spoons, jars, strainers, thermometers and other implements must also be sterilized (boiling water will do) preferably as soon as possible before coming into contact with the yogurt. You can't go overboard on the sterilization here, folks - treat the yogurt bacteria like your invisible pets; if you throw them in the jar along with a whole bunch of other little creatures, somebody's bound to get hurt - and you wind up with a sloppy mess instead of delicious, creamy yogurt. Trust me on this one, overkill is a good thing.
Higher fat content milk generally yields a thicker yogurt. If you're going for über-thick Balkan / Mediterranean-style yogurt, then get the highest percentage milk fat you can (Generally around 3.25% in North America). Boil the milk generously (steady for 10-15 minutes, uncovered) and ferment for a mid-range figure - 4-6 hours, depending on your personal preference. If using a lower fat content milk such as skim, 1% or 2% but still desiring a thicker consistency, you will need to add some evaporated milk, milk powder, or some other thickening medium. Add this to the milk before boiling, mix well to thicken somewhat, and then proceed as normal.
If using yogurt rather than starter culture, adjust the total volume of milk to reflect the volume of your culture. If you are planning to use ~1 cup / 250mL of yogurt, then start by boiling no more than 1.8L / 1.9Quarts of milk, or you will overfill your vacuum-insulated containers.
If using yogurt rather than powdered commercial starter culture, bear in mind that you must be using a fresh, uncontaminated sample stored in an airtight jar. Last month's homemade batch which has had fingers and spoons stuck into it will be host to all kinds of (harmless) bacteria which will fight with the yogurt culture and prevent them from successfully turning the warm milk into delicious yogurt.
Once you have made a few batches, varying some factors (length of fermentation, type of milk, fat content of milk, etc.) you will get a feel for how you or your family prefer your yogurt. Play with the recipe - this recipe especially is equal parts art and science; make it fit you.
Apologies for the long recipe. Hopefully this answers any questions you could possibly have about the process of making your own yogurt. Enjoy!
People Who Like This Dish 12

---
The Cook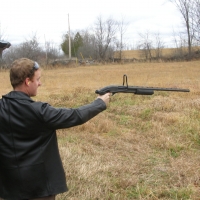 bejamminr
Ottawa, CA
The Rating
1

people
Reviewed by
Thank you for this great post. I purchased a yogurt maker three years ago and never used it. This recipe will give me a chance to put it to use. Love the detailed directions.

choclytcandy

in loved it
The Groups
Not added to any groups yet!