Crispy Chicken Wings From A Buffalo NY Expert
From
foodfiend
8 years ago
How to make it
---
Stuff you'll do:
1. Coat your wings with a light coating of flour. I like to pour my flour into a bowl and roll each wing in it individually. You want to coat each wing lightly, this will help make them nice and crispy. Coat them too thickly and you might end up with crunchy. Some folks like that, but I like my wings crispy, a light coating of flour will do that. As you coat each wing place it on a cookie sheet with room in between each of them.
2. Wash your hands! After handling raw chicken.
3. I call this step proofing the wings and you can do it one of two ways:
3.1. Long term proofing
Place the cookie sheet with the floured wings in the refrigerator for at least 4 hours or overnight. Do not cover them, let the air at them to dry them out. The flour soaks up moisture and the air drying just enhances the effect. The whole idea is to dry the wings out so you get that delicious crispy texture.
3.2. Short term proofing
Pre-heat your oven to 200deg F. Place the cookie sheet with the wings into the pre-heated oven for thirty minutes. This will dry out the wings and raise their temperature a little. The drying effect will enhance the crispiness, and the rise in temperature will shorten the cooking time a little. Some might say that this method may increase the likelihood of bacteria growth in the raw chicken, but by the time they have been fried, the temperature of the wings will be around 190deg F which is more that hot enough to kill any worrisome bugs.
4. Time to heat the fryer oil. I like to cook mine at a temp. of 370-375deg. F.
5. Time to submerge the wings. My fryer has a basket which is designed to hook onto the fryer so it is suspended above the oil. Do this if you can. I fry 10-15 wings at a time. If I do more it's too crowded and the wings don't cook the way I like them to. Fill the basket with your wings (use the tongs if you'd like), set a timer for twenty minutes, and drop them in the oil. Drop them gently and watch for spatter. If they are cold from the fridge the oil may become what I call 'angry' and become loud and boil wildly. If this is the case, back them out of the oil and gently lower them back in after the oil calms. Repeat this as necessary and avoid a dangerous boil over (2 or 3 time is usually enough). If you did a short term proofing, this isn't likely to occur since the wings are warmer. I don't advise frying frozen wings, this could be dangerous.
6. After ten minutes use your tongs and make sure that the wings are loose in the fryer. They should not be sticking to each other or to the fryer basket. They should be free to float around as they see fit.
7. After 10 more minutes, hang your basket and check the temp. of one of the biggest and fattest wings with a meat thermometer. Make sure you're not touching bone and look for a temp. of 180deg F minimum. Mine are usually 190-200deg F. This ensures that your formerly raw chicken is safe.
8. Let them drip while you mix some hot sauce. Traditionally I will melt a half stick of butter with a cup of the Frank's hot sauce as a standard or base. If you want them hotter, ad a teaspoon of the Blazing sauce and mix well. The Blazing is so hot that I won't use it on its own, but it adds a nice kick when you use it as an additive. There are many different ways to make the sauce and there are many bottled sauces on the market. This is definitely a matter of taste.
9. Dump your wings into your shaker, add your sauce and shake to coat. Dump those delectable fried treats onto a plate and enjoy with celery, carrots, and bleu cheese dressing.
10. Don't forget your favorite beer! Nothing like a few cold ones with a platter of wings!
People Who Like This Dish 11

---
The Cook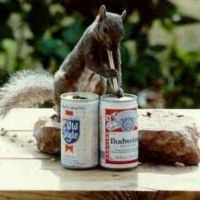 foodfiend
Amherst, NY
The Rating
8

people
Reviewed by
midgelet

in Eastern loved it

Gosh, its a long recipe.
Simple at the same time.
Gave it a go, with what i had yesterday instead of my normal, Traditional Roast Chicken, like to try new things & this ones new to me, was just wonderful, but didnt have your sauce used ReGG...more

lexdavies

in Stafford loved it

mystic_river1

in Bradenton loved it
A Few More Reviews
The Groups
Not added to any groups yet!