How to make it
---
Now please do not get discouraged with this long reading...it has a lot of funnies...but also many secrets to the perfect whipped and mashed potatoes for holiday and anytime meals...
Peel the Potatoes
So where do we start? With the potatoes of course! Peel completely the potatoes. I am not one for dirty looking potatoes, that's for your local greasy-spoon restaurant that has those great ribs, but this is for your family – so make sure every peel is off that potato in your hands – It's easier to do this in the sink versus in some bowl.
Boil the Potatoes
Add enough water and at least two teaspoons of salt and bring to a boil. You may wish to cover the potatoes, but do watch it, once they start boiling, a slow boil is always better than a fast one, since the pot lid will probably pop off with water all over the place on top of your stove with a hard boil. Yuk!
Has Ten Minutes Gone By?
Take your milk – I like to take at least two cups for say 12 potatoes, scald the milk in a separate 2 quart pot and keep warm in the back of the stove top. Keep milk warm, very very very important, hey did I say very enough yet? - -Yes Keeping the milk warm is imperative to making great-tasting and looking mashed potatoes – yes, another one of Grandma Nell's tricks! You never want to add cold milk to the hot potatoes!
In a Rush?
If you are in a rush, say you forget at the last minute to do the potatoes, well slice them up into smaller bits say the size of a large walnut, which will cut the time it takes them to be boiled. While boiling, do stir up the potatoes around in the pot, since the ones on the bottom will cook faster than those on the top. Yes, believe me, they will.
Are Potatoes Fork Tender Yet?
OK so the potatoes are finished being boiled, you can now bring the pot to the sink, using those potholders, using a strainer over yet another large pot, strain the potatoes so that you are able to reserve the water that the potatoes were boiled in. Set aside the "potato water" for use in a bit.
Back to the Stove top
Take the original pot you boiled the potatoes in and put back the now cooked potatoes into the pot and place over a low flame.
Using your potholders once again, shake vigorously the pot, as if you were making popcorn. This will allow some of the steam and inevitably some of the water to be evaporated. Do this for maybe two or three minutes. You think your arms are tired now?!? Just wait. We haven't even gotten to the gravy whisking!
Now Comes the Fun Part
Invite the kids to mash up the potatoes, keep this task quick, say only five minutes. I prefer the open masher vs. the flat masher. Then get rid of the kids after the mashing is completed. Not all lumps will have been removed, but that's what your mixer is for. Now I have both types of mashers, and I tend to use the flat bottom one for when I am making bruschetta for mashing up the tomatoes - but that's another recipe, another day and another time.
Bring to Mixer
Bring pot to mixer, and though its awkward, put pot under mixer, or if you have to put potatoes into mixer bowl. Add half of the butter and add salt and pepper at this stage. Some people prefer white pepper, who cares, I know its pepper, so what if I see little flakes of pepper in my mashed potatoes, and I know at least its real ingredients!
Start Your Mixer
Add scalded and still warm milk slowly to the whipping potatoes. You can also substitute the potato water you set aside on reserve – but don't use it all up – save some for making the gravy next. You may in fact not use all of the two cups of milk depending upon your preferences of whipped mashed potatoes.
Do Not Be Afraid
Stop mixer on occasion and see how the potatoes taste and feel in a spoon. Do this within five minutes. You can also check for lumps at this stage. In other words, see if they dollop like you want them to, say like when you are whisking up egg whites. How stiff or in this case, soft do you want those taters of yours? Once you think you have added enough milk/liquid, salt, pepper, and butter, you are finished! Serve immediately with a big lump of butter on top and proudly take your potatoes to the table and banquet. Relish in the oohs and ahh's you hear. And know that Divaliscious is winking behind you somewhere out there in cyber land.
Not Ready to Serve?
At this stage, you can either put the potatoes back into the pot you boiled them in and do your best to keep them warm say in the oven on low, keep them covered too!
If they've gotten a bit cold for your taste, yes, you can reheat them in the microwave, but the oven reheating is best, since this will allow them to stay airy and fluffy.
People Who Like This Dish 7

---
Show up here?Review or Bookmark it! ✔
The Cook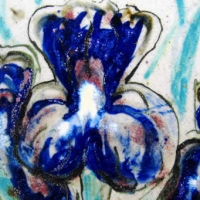 divaliscious
Dutchess County, NY
The Rating
3

people
Reviewed by
noir

in Boston loved it

My gramma used to make the Best whipped mash ever, and it just improved upon reheating. I love that crusty bit! sometimes I broil by mash just for that srust ;)

jo_jo_ba

in Oshawa loved it

very, good I used 50/50 cream instead of milk and i added roasted garlic.

vthec

in loved it