Rosemary Orange Roasted Chicken
From
divaliscious
10 years ago
How to make it
---
Take chicken out of refrigerator and rinse super well, let it sit out (without dog around) to let it get the chill off of it. Make note of the chicken's weight at this point and write it down for accurate cooking times as described below. You will be adding one half pound to it's total weight after stuffing it with onions, garlic and oranges.
Preheat oven at 450 degrees - yes 450 - you will be roasting at this temperature for only 20 minutes, then will be turning the oven temperature down to 325 afterwards.
In bowl, mix 4 tablespoons or more of olive oil, strip rosemary leaves off of two (2) sprigs and place into bowl. Add good amount of kosher salt and fresh cracked pepper and the ground sage. Squeeze juice of one half orange into bowl, stir contents and set aside.
Generously salt and pepper inside of chicken (I like to have someone hold chicken upon it's "neck area" while I salt and pepper the inside - they never stand up for themselves during this task.
Add all of the following to the inside of the bird as 'stuffing' - this will flavor the bird from the inside out making it truly scrumptious! - Put 1/2 cup onion that you have cut into large chunks, 3 cloves of garlic cut into half, 1 sprig of rosemary and 1/2 or more of a cut up orange (with skin) inside chicken.
Do your best to tie up your bird (you will see a sad rendition of me roping up my chicken in the photos - somehow I have lost my roasting chicken 'fork ties' at the moment so do forgive my attempts on tying up the old jessie)
Take out your roasting pan.
Cut up your celery and carrots into thirds (keeping them large) and place them into roasting pan. Add the rest of your garlic cloves (keep whole) and cut up onion and the rest of the cut up oranges skin and all and lastly one last sprig of rosemary into your roasting pan.
Sprinkle roasting pan 'ingredients' with a little salt and pepper and drizzle just a little olive oil over the top.
I use my hands for the next task, I scoop out some of the mixture from the bowl with olive oil and seasonings and rub the back and front of the chicken - do not forget about the wings and legs - get every part of that bird coated with the olive oil mixture as if you were sending her out to the beach in the sun for the day.
Once coated, place her face down (breast side down on top of all the celery, oranges, onions, etc.) in the roasting pan. The vegetables serve as the rack when roasting. If you are roasting a large bird, you may have to add more celery, onions, carrots and oranges.
Add three tablespoons water to roasting pan - you can also use wine (red or white) instead of the water.
Place roasting pan with chicken into hot preheated oven.
Roast at 450 degrees temperature for 20 minutes, then turn down the oven to 325 degrees.
Roasting times for birds 4 pounds or less (once stuffed - add half of a pound to the total weight of your bird) roast for 30-35 minutes per pound total roasting time.
Roasting times for birds over 4 pounds (once stuffed - add half of a pound to the total weight of your bird) roast for 20-25 minutes per pound total roasting time.
Temperature in deepest point of thigh once cooked should reach 185 degrees. Legs should wiggle easily.
Last 40 minutes, take bird out and flip. Not you, the bird, carefully of course and have her face up to show off her pretty breast. Baste with juices then return bird to oven.
At last 20 minutes, baste once more and kick up the heat to 400 degrees. This will crisp up the skin and by roasting it breast side down for most of the cooking time will create a very moist white meat.
Take out chicken from oven.
Place rack on top of carving plate and place chicken on top of rack to rest for 20 minutes so that any juices that drip fall away from the bird and through the rack and onto your carving plate allowing the skin to stay crisp. Cover with clean dish towel to keep warm. Keep chicken away from edge of counter so as to not entice doggy to take a quick peek at your incredible smelling chicken.
While chicken is resting, make great pan gravy.
***To make pan gravy:
In roasting pan, place on top of stove on medium heat, remove any oranges left, but leave in all the vegetables. Add 3-5 tablespoons of flour to create a rue. With whisk, stirring constantly, add 2 cups of chicken stock or broth to rue slowly at first to incorporate liquid and to help keep it lump free. Let come to a boil, add salt and pepper if necessary and remember to scrape the sides of your roasting pan to get all those little brown bits into your gravy which are total gravy 'enhancers'! Strain gravy if you would like and serve it up with your roasted chicken. You may want to serve your 'withered' roasted veggies - they are extra naughty and good.
****
Once chicken has rested, remove ropes, strings, etc. and either bring to table to show off and carve right there or carve your chicken in kitchen then serve on a platter. Serve with your favorite sides, we served ours last night with steamed broccoli with garlic and olive oil and our 'second time around rice' which I will be posting momentarily.
Enjoy the subtle taste of oranges in this roasted chicken you will find super moist and juicy. Enjoy!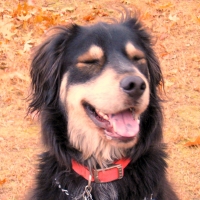 Theo the Zen dog - after he's enjoyed some of the chicken
Close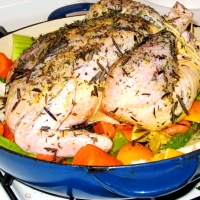 What chicken looks like getting ready to be roasted
Close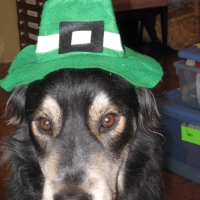 Theo trying to look cute asking for another piece of chicken
Close
People Who Like This Dish 10

---
The Cook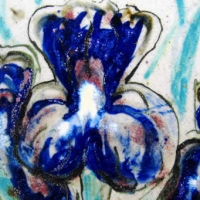 divaliscious
Dutchess County, NY
The Rating
5

people
Reviewed by
This sounds wonderful, marvelous, etc., etc., Yummmm.

jenniferbyrdez

in kenner loved it

This recipe is one of the best and most informative I've seen since I joined. I'm sure this will become a family favourite. Thanks!

hollymayb

in Baltimore loved it

Bookmarking to make the next time we have chicken,thanks for a fully discribed recipe....BOB

robertg

in loved it
A Few More Reviews
The Groups