Ingredients
---
I fell in love with this recipe. I love anything tomato based. This is like tomato sauce and chunks of all your favorite fish. You add whatever fish you like. And get a HUGE LOAF OF crusty bread and butter! I basically modify this recipe to my own sauce, so can you add what fish you like. Just a great great recipe! You can make this your own! Everyone thinks this is Italian it is not. "Chip in". "Chip in" as a call heard on the World Famous Fisherman's Wharf in it's early heyday before World War II. This was a call for San Francisco's mainly Italian immigrant fisherman coming home with their catch of Pacific seafood to donate a small portion of their catch for a communal fish stew prepared on the docks. Anything would do. A few clams, mussels. Adding some red snapper, a crab or two, some scallops some halibut or flounder, anything to add to the fragrant stew that would soon be served to the "Club" of San Francisco fisherman who would talk about the days catch and dunk San Francisco Sour Dough bread into the rich broth. Eventually the "broken" English cries of "chip in" turned into "chip-in-O". Hence the name "Cioppino". This is a rich seafood stew with not much care as to how it was assembled. This consisted of throwing the days catch into a big pot and pouring sauce into the pot with the shellfish and chunks of what fish was available. Let all these flavors enhance each other for awhile and you have the most flavorful and messy to eat stew that ever was. shopping list
1/4 cup (3 turns around the pan in a slow stream) extra-virgin olive oil shopping list
1 teaspoon crushed red pepper flakes shopping list
2 to 3 flat fillets of anchovies, drained shopping list
6 cloves garlic, crushed shopping list
1 bay leaf, fresh or dried shopping list
2 celery ribs, chopped shopping list
1 medium onion, chopped shopping list
1 cup good quality dry white wine( I am sure even beer works) shopping list
1 (14-ounce) container chicken stock shopping list
1 (32-ounce) can chunky style crushed tomatoes shopping list
4 sprigs fresh thyme, leaves removed (about 1 tablespoon) shopping list
1 handful flat-leaf parsley, chopped shopping list
1 1/2 pounds cod, cut into 2-inch chunks shopping list
salt and pepper shopping list
8 large shrimp, ask for deveined easy-peel or peel and devein shopping list
16 to 20 raw mussels, scrubbed shopping list
A loaf of fresh, crusty bread, for mopping UP!! Or 2 loaves depending on quanity and people eating this. shopping list
How to make it
---
In a large pot over moderate heat combine oil, crushed pepper, anchovies, garlic, and bay. Let anchovies melt into oil. The anchovies act as a natural salt, the pepper flakes will infuse the oil, providing heat.
Chop celery and onion near stove and add to the pot as you work. Saute vegetables for a few minutes to begin to soften and add wine to the pot. Reduce wine a minute, then add chicken stock, tomatoes, thyme, and parsley. Bring sauce to a bubble and reduce heat to medium low.
Season fish chunks with salt and pepper. Add fish and simmer 5 minutes, giving the pot a shake now and then. Do not stir your soup with a spoon after the addition of fish or you will break it up. Add shrimp, scallops, and mussels and cover pot. Cook 10 minutes, giving the pot a good shake now and again.
Remove the lid and discard any mussels that do not open. Carefully ladle stew into shallow bowls and pass bread at the table.
***I like my sauce a little thicker I added tomato paste( depending on small can or little larger can)in the oil, pepper, anchovies(only because "I" like anchovies once in awhile the family hates it, lol oh well I was cooking) and garlic. (In the beginning process)
Besure you have a good heavy bottom pot for this. My first attempt it burned on the bottom, It was stil good.
You will be able to see your liquid as you are making this. How thick or thin you like your broth. Remember this is your recipe!
People Who Like This Dish 12

---
The Cook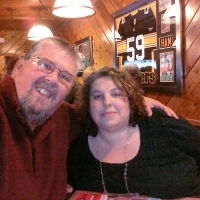 recipediva
Pittsburgh, PA
The Rating
1

people
Reviewed by
this sounds so wonderful...my family used to make fish stew when we'd go on vacation in canada...and it was made in a big pot over the campfire....it was sooooo good....plus my brother in law would add 1 very hot hungarian pepper to the stew....it wo...more

paprikamama

in Lake Mary loved it