Extra Sourdough Bread
From
annieamie
10 years ago
How to make it
---
Using a large glass, plastic or ceramic container with a large mouth, add the water and the sugar and stir.
Add the yeast.
Let the yeast dissolve into the water and foam for about 10 minutes.
Add flour.
Stir very well and cover lightly with a kitchen towel.
Place this in a warm area of your home.
Leave this alone for 12 hours then stir.
You should see bubbles forming all over the starter.
Now, you can use some of this starter at this point but it will NOT have much of a sour flavor but it will make a nice loaf of bread.
**To achieve the real sour flavor, at this point if you do not use any of the starter, add 2 TB of regular or bread flour with 2 TB of warm water and stir the starter well and cover.
Place back in a warm area.
I feed my starter 1 time a day, each day.
IF YOU WANT TO MAKE A LOAF OF BREAD, take out 1 1/2 cups of starter and put it into a bowl.
Replace the starter by adding 1 1/.2 cups of flour to the starter and 1 1/2 cups of warm water, stirring in well!
Always replace what you remove from the starter with exactly what you removed from the starter!
For about a week, keep feeding your starter with the 2 TB of flour and 2 TB warm water once a day.
Smell your starter daily!
When you feel that your starter is sour enough based on your sense of smell, you're ready to make your bread.
The Bread Recipe
Remove 1 1/2 cup of starter and place in a warm glass bowl. Add 2 cups of flour and the salt. Depending on how wet your starter is, you might need more flour AND YOU CAN USE MORE STARTER IF YOU LIKE.
YOu can use a mixer with a dough hook, or put it into your breadmaker on a dough only setting or mix in the flour and salt with your hands. Mix the dough well. (I believe that the best bread I've made was made by hand on a floured surface. Knead your dough for five minutes until the dough forms a nice ball and is soft to the touch.)
Form the dough into a circle, place in an oiled bowl or into a ziplock bag and seal.
Place the dough into a warm area and let it rise for 1 1/2 hours.
*See tips below!
After the dough has doubled its size, remove it from the bag or bowl and press the air out of it and form into either a large round or a long loaf. You can divide the dough and make 2 round loaves or 2 baguettes.
Place the dough on a baking stone or baking pan that has been covered with foil and sprinkled with cornmeal.
Cover the formed dough with a kitchen towel and place in a warm area of your home to rise again.
After an hour, check the dough by pressing your finger into it. If the indentation doesn't move, you're ready to bake.
Place the dough into a cold oven and bake at 400 degrees for 40 minutes.
You can slice your dough before you bake it but its not necessary.
*Tips For Rising Dough
Microwave method-Using a 2 cup glass measuring cup, place one cup of water in the cup and place in the microwave. Heat on high for three minutes until water boils. You dough can be in a bowl or in a ziplock bag. Push the cup to the back of the microwave and place the dough inside the microwave making sure that the bag doesn't touch the measuring cup. Leave the dough inside the microwave for one hour to rise. DO NOT TURN ON THE MICROWAVE. The water in the measuring cup adds moist heat and helps the dough rise nicely.
Oven Method- Place a pan or pot of boiling water in the bottom of your oven. Place your dough to rise on a pan above the pot or pan of water. Make sure you remove the pot of water before baking. Your crust will be too thick if you don't.
And now Folks, my newest method! Are you ready? This is so ridiculous but it works! >>>>>>>>
The Electric Blanket Method! (Well someone had to try it!)
Place your dough to rise in a glass bowl WELL covered in plastic wrap or in a freezer-ziplock baggie. Turn on your electric blanket to a medium setting on your bed, slip the dough on to the blanket, covering it either with a towel or whatever bedding you have on your bed. Hey, I tried this and it worked very well! The dough rose perfectly and there was no mess as the dough was covered. The blanket provided the perfect amount of heat. Just don't forget that your dough is in the bed rising or you'll have a surprise when you go to bed later...
*************The Starter**********
If you do not make bread on a daily basis, store your starter only AFTER it is as sour as you like it in the refrigerator in a loosly covered glass container. If there is a liquid on the top of the starter after a few days, just stir that into your starter or remove it. Remember that if you remove any of the starter, replace what you remove. You can make bread after you refrigerate your starter by removing some of the starter for your bread and letting it come to room temperature. If you have any questions, feel free to write!
**I hadn't made sourdough in years. Recently, I actually purchased a sourdough starter on the internet. It was a good starter but after following the instructions that came along with it, I was disappointed in the flavor of the bread! I had saved Emeril's starter recipe a few years ago and made that, using the packaged dry yeast. I let that starter sit for a week, feeding it daily . I even made a few loaves in hopes of achieving that extra sour flavor that I craved. After 2 weeks, I had it! Eureka! I had the tangy flavor of commercial San Francisco-style bread! I have yet to place my starter in the refrigerator along with the one I purchased on the internet. My starter is still alive and healthy without refrigeration. I will take half of it soon and refrigerate it but remember, our pioneers didn't have refrigeration so you know that those starters sat somewhere in their kitchens, fermenting away!
MOMS!!!!.. This is a great way to teach kids about fermentation. Consider it a science project. And let your kids knead the dough. They can't ruin it!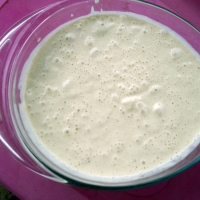 The Starter After 3 Weeks!
Close
People Who Like This Dish 42

---
The Cook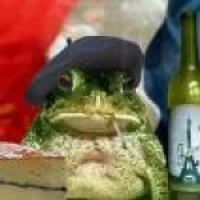 annieamie
Los Angeles, US
The Rating
8

people
Reviewed by
I always buy the extra sourdough bread, Annie. I've made a few batches of sourdough in the past that just didn't have much flavor. I'm gonna try your recipe after I get the starter going.Hey, thanks for adding the starter recipe, too. I appreciate th...more

cinnamon

in Beverly Hills loved it

Do you toss any starter in the beginning fermentation? I've never made it before and don't think I have a bowl big enough to house a constantly fed starter when nothing's being thrown.

jo_jo_ba

in Oshawa loved it

Hi annieamie!
In your post, you said:

"Place the dough into a cold oven and bake at 400 degrees for 40 minutes."

Would you tell me, please, do you time the 40 minutes from the time you place the dough in the cold oven, or...more

ayngelwing

in Vancouver British Columbia loved it
A Few More Reviews