Chicken and Dumplings
From
bondc
13 years ago
How to make it
---
Cook the chicken:
Cover the chicken, onion and carrot with water (broth is better), bring to a boil, then simmer until done (how long that is depends partly on whether you use a whole chicken, or chicken parts). You'll need about 5 cups stock total.
Discard onion and carrot. Remove chicken and reserve stock. You need a certain amount of fat in the stock to keep the dumplings from sticking together.
Make the dumplings:
When stock is room temperature, mix flour, salt, baking powder, and poultry seasoning (I like LOTS). Add stock: These are not noodles. You want the dough sticky, about the consistency of spätzle dough. If that doesn't mean anything to you, you want it thicker than cake batter, but it shouldn't "hold together" into a dry ball. When you lift the spoon, it should pull some of the dough with it and remain soft and fairly sticky.
Flour your counter generously, and turn the dough out onto the counter. Flour the top of the dough generously and let it sit for fifteen minutes or so. Now, using almost no pressure at all, roll it with a pin (it's very soft, and requires no pressure) until it's about 1/8 of an inch thick. Again, let it rest for about thirty minutes, then cut it into squares.
Add poultry seasoning and butter to stock, and bring to a boil. Now, lower the heat until the stock is simmering, but not boiling (the dumplings really are tender, and will fall apart if they are boiled). Add dumplings 5 or 6 at a time, and GENTLY separate them with a spoon and push them down into the stock before you add more. This prevents them from sticking to each other (as does the fat in the stock). The flour on the dumplings will thicken the stock as it cooks, so you don't want to shake it off. Repeat this process till all the dumplings have been added, then cover and simmer for 30 minutes. Simmer very gently. Don't boil. Very gently break them up two or three times, but IF YOU STIR THEM THEY WILL DISENTEGRATE!
Serve with the chicken pieces, or remove the chicken from the bones and chop then add when the dumplings are done.
People Who Like This Dish 41

---
The Cook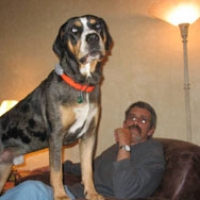 bondc
State College, PA