How to make it
---
Cut up the chicken. Good place to start.
Let drain but do not dry. The moisture helps hold the seasonings to each piece.
Lay skin side down on flat surface.
I place heavy duty aluminum foil on the counter for food safety.
Season with Lawrys first. Just a slight red color, too much, its too salty.
Sprinkle other seasonings. I sprinkle from about 6-8 inches above so the seasonings disperse evenly. See Photo
Turn chicken over skin side up, season again.
Large skillet with about 1/4 to 3/8" oil. Cook at med-high on electric stove).
I use a paper grocery bag with 2-3 cups of bleached white flour.
First drop in all the hearts if you have extra (later in recipe why there is more than one) in the bag. Shake the bag and put hearts in the pan.
Drop in a couple of pieces, shake, make sure they are coated.
Shake excess flour off each piece, place in pan. Do this until the pan is full but not crowded. Cover with lid. Yes cooking with a lid produces crispy chicken.
I cooked the chicken today. I am cooking on an electric oven, 1 notch below high. I took a lot of pics of the cooking sequence and the position of the knob. I averaged 10-12 minutes per pan. I turned each piece about 8 times so the pieces would not burn. Cooked until golden. Don't over cook. I kept the temp at med-high. I like nice bubbling around each piece so they don't soak up oil. This chicken is not greasy, just yummy and sooooooooo good.
Have a plate or whatever with a paper towel to place cooked chicken on.
All the parts don't cook at the same rate or length of time. You just have to look and you can tell if the piece is cooked. Again, watching the watch, average time 10-12 minuets, turned about every two minutes. The leg took an extra 5 minutes or so (tuning about ever minute after 10 minutes), getting it cooked to bone takes longer. That is why I like removing the thing bone and taking each breast half off the bone.
Because each piece cooks at its own pace, you will find yourself taking some out and putting new pieces in. This allows the oil to keep its temp.
To cook wings easier, cut into 3 pieces
To cook breasts, cut full breast in half, remove from bone. Breast will cook faster and even without the bone. I like crunching crispy fried chicken bones, so I season and cook the breast bones. Crunchy good stuff.
Again, thighs cook better if you remove the bone. Otherwise you can overcook the thigh to get it cooked to the bone. Remove bone, season both the bone (cook the bone, crunchy stuff) and thigh, flour, cut in half. It cuts very easy with the flour coating. Hold thigh firmly and you will get skin on each half. Skin keeps chicken moist when cooking. If you don't like the skin or think you will die eating it, remove it after cooking. Done right, its the best chip you can crunch on.
If you or someone likes the gizzards, the secret to tender gizzards is only cooking about 4 minutes! 2 minutes per side (maximum is 2 minutes) turning each 4 times (every minute). I know it seems like a short cooking time but they will be cooked and tender.
The other secret to cooking gizzards is cooking them with other parts of the chicken. I will drop 3-4 in around other parts, turning them ever minute, taking them out when done and replacing with new gizy's while the other parts keep cooking. If you try and just cook a pack of gizzards at one time, they make the oil foam up.
Livers cook fast about 2 minutes longer than a gizzard. I season and flour all the hearts (you get them in a pack of gizzards usually) and put them in first with the heavy pieces- half breasts, legs, thighs, wing parts. I let the hearts cook almost to end. Its the only way I can eat them. Severely crunchy. I always cook the heavy (thickest) parts first.
I cut up a chicken in about 3 minutes using my Wusthof 6" sandwich knife.
Actually I use the sandwich knife for about 80% of my cutting, meat, or chicken, tomatoes, very thin lettuce for tacos, etc.
I use the AccuSharp Knife and Tool Sharpener to keep my knives razor sharp. The one with the blue handle.
When cut up, you should have 2 wings, 2 legs, 2 thighs, 1 full breast, 1 full back. I crack the back in the middle, cut and separate tail section from rib section. Place the rib cage section skin up and press down and break the ribs so the piece lays flat when cooking. Ribs are good crunching!
I cut the tail end section down the middle so I have two long pieces, easier to fit in the pan. If you don't cut the tail section length wise, place it skin side up and press down hard to break the bone so it lays flat.
Seems like a lot of words for what is just second nature when I make fried chicken.
For those who like fried chicken skin, this is sinful.
Hope this reads OK. Enjoy.
I cooked again today 6-1-07. Cooking time was 45 minutes. I had defrosted what turned out to be a half of a chicken I cut up earlier. I also defrosted a bag of them tasty gizzards. The finished platter of chicken looks so good. The Colonel never had a chance. The pic sequence is not bad and tells a lot.
People Who Like This Dish 106

---
The Cook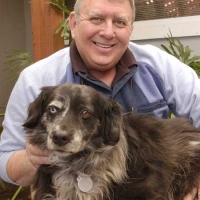 thegoldminer
Sacramento, CA
The Rating
18

people
Reviewed by
Lovin the detail and the pics! I love fried chicken - your seasonings are real close to my *secret* recipe (*wink*wink*).

I never fried chicken with the lid on - I use cast iron and they have the self basting nodules on the under side of t...more

possumqueen

in Small Town loved it

This looks awesome. I really really stink at making fried chicken! Always charcoal on the outside, raw on the inside. I love the pictures and I am going to try that this week. Another oil experiment where my husband will put the fire extinguisher on ...more

cmon68

in Windsor loved it

Love it, says it all.. great job!!

shirleyoma

in Cove loved it
A Few More Reviews